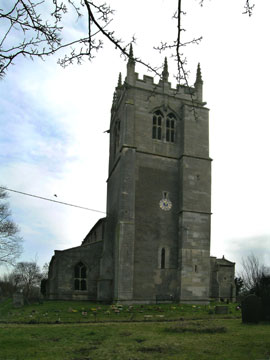 St. Swithin has 6 bells in its tower. Muxlows lived in this area for awhile and we hoped to find their names here. Instead we found a couple of Dawsons. Now for a little history on the patron saint of this church. There are about 60 ancient churches named for St. Swithin or Swithun (b. ca 800 a.d.- 2 Jul 862 a.d.), who was raised in an abbey, became a priest, was chaplain to Egbert, King of the West Saxons, and tutor to prince Ethelwolf. At the time of his death he was Bishop of Winchester.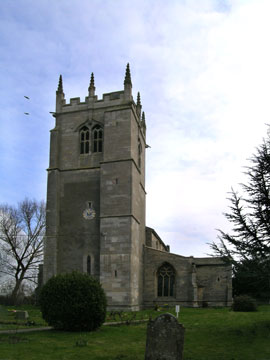 St. Swithin wanted to be buried outside where the people would walk over his grave and the rain would drop on it. But nine years later the monks moved his remains to a shrine. It is said Swithin showed his displeasure by causing it to rain for 40 days. Thus a British ryhme came about and is recited on July 15th, St. Swithin's Day.
Saint Swithun's day, if thou dost rain,
For forty days it will remain;
Saint Swithun's day, if thou be fair,
For forty days 'twill rain nae mair.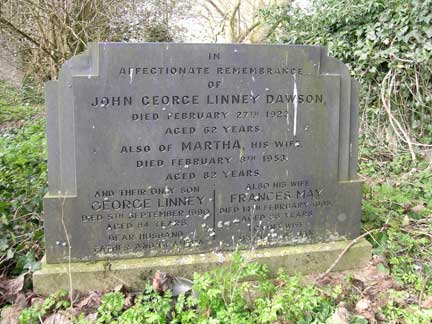 In affectionate rememberance of John George Linney Dawson, died February 27th, 1922, aged 62 years.
Also of Martha, his wife, died February 8th, 1953, aged 82 years.
And their only son, George Linney, died 5th September 1990, aged 84 years. Dear husband, father and grandpa.
Also his wife Frances May, died 14th February 1995, aged 86 years. Loving wife, mother and nan.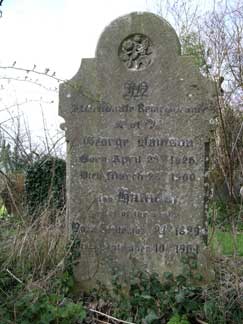 In Affectionate Rememberance of George Dawson, Born April 23rd, 1826, Died March 26th, 1900.
also Hannah, relict of the above, Born September 24th 1829, Died September 10th, 1904.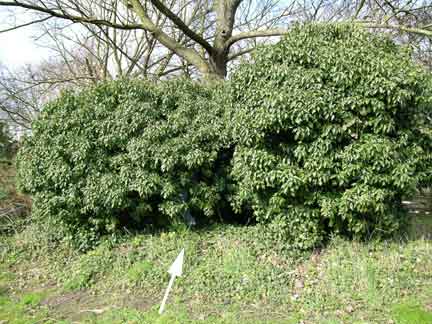 Underneath these beautiful, protective bushes were a few more stones.
Whitney, who is not really into family history, was into finding out if it was her relatives that were buried here.
The arrow is pointing to the bottom part of her leg.